This holiday season Source of Compassion was determined to help the new Afghan Refugees in the Fort Worth Area. This project was initiated in response to the overwhelming requests by the refugees who are in need of help.
Source of Compassion sent out representatives to the community and spoke with the refugees individually. 
These Afghan refugees went through a rigorous process by escaping the clutches of Taliban, leaving their homeland, families, friends, and culture behind. They were evacuated to the refugee camps and stayed there for months. After finishing all their screenings by Homeland Security and Department of Defense, some were sent here to the DFW area for their permanent refuge. Some have already received their SSN and permanent Residency card, while others are still waiting. They will need these documents to work and help provide for their family and themselves. Those who have already received them are facing the challenge of work below average wages.  Many of the families and individuals are still in the process of applying for federal aid like SNAP, Medicaid, Housing, etc.  Some families are having to share their apartments with other families. There are also cases of 6-7 single individuals having to share an apartment.
Since most offices will be on holiday leave, it was imperative for us to make sure that these refugees have at least food to get them through the month into the next year. The SOC Holiday Project was able to help 60 families and individuals with about a month's worth of groceries, including long grain rice, flour, sugar, oil, beans, chickpeas, tomato paste, pasta, whole chicken, potatoes, and onions. These items were packed in Eco-friendly and insulated bags that the refugees can reuse.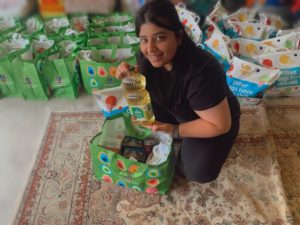 We had two rounds of distributions. In the first round we met with the refugees at their apartments, while in the second round we set up a distribution location and met and distributed to a larger population of the Afghan Refugees. During our distribution, we spoke with and helped many Afghan Refugees, and everyone expressed their gratitude to Source of Compassion for providing them with this aid. As the event progressed, more and more Afghan refugees showed up and asked for help. Our list of individuals and families who need help grew even longer. We will need more donations and sponsors to provide more relief services like this to the growing list of Afghan Refugees.
Source of Compassion greatly appreciates your help and support thus far. We asked you to continue to donate and help us find sponsors and donors.
Thank You, and Merry Christmas!
The Source of Compassion Team