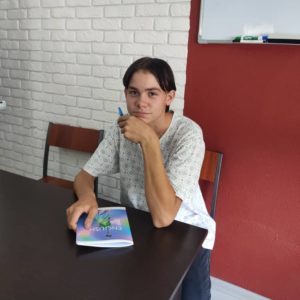 Ruslan Kononenko is the older brother of Daria and Artyom. Since we have found a sponsor for him, all three siblings are being taken care of after the passing of their mother. Valentina, their grandmother, is doing everything she can for her grandchildren, but she is elderly and poor and unable to provide much.
With the disappearance of his father, the death of his mother, and the additional responsibility of caring for his younger siblings, Ruslan has experienced much trauma and stress for a teenager.
With the sponsorship, he is able to go to school with less worry, and we hope to walk with him as he navigates his life as an orphan and older brother.
He was able to attend the 2021 Summer Camp at Issyk Kul Lake, and made friendships and enjoyed the cross-cultural experience. We are looking forward to him continuing to build his relationships with our volunteers and his sponsor as he grows and heals from his hardships.