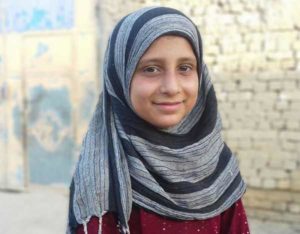 During the civil war, Mariam's father, Shamsuddin, was an immigrant in Pakistan, so his motherless children had to live in the refugee camp.  Later on, the Pakistan government forced Shamsuddin and his children to move again.
When they returned to their home, they discovered that it had been destroyed. 11-year-old Mariam and her family were forced to move once more, and they settled in a different city.
In 2015, Mariam's father became ill and passed away, leaving four sons and three daughters behind. The children were left with no support and unable to pay for their rent, food and other living expenses.  Their uncle gave them a small bedroom in his house so they would have shelter.  All five kids had to sleep in the same room.
Mariam had to drop out of school after the fifth grade since the uncle simply did not have enough money to pay for the children's education. He used the children as shepherds, to watch his lambs and animals.
Mariam never lost hope and continued to have high goals in her life and dreams to continue her education.
Source of Compassion has helped those dreams to come true through our relief services program, and she was able to return to school.