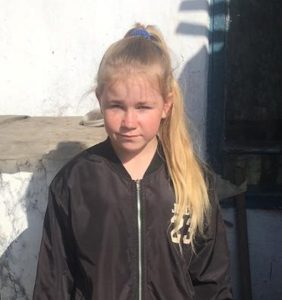 Daria was born to a Kyrgyz father and Russian mother in Bishkek, Kyrgyzstan. Here is Daria's story in her own words.
"As a small kid, my family and I moved from house to house, staying with our relatives as we did not have a house of our own. Since my siblings and I were little, our parents did not spend much time with us. My mother was unhappy and struggling to live with my father's drug addiction, and then later on her own drug addiction. My father forced her to go find money so she could buy drugs and vodka. 
My parents were always very busy trying to fill their addiction, and so did not think about or care for us. I was very happy whenever my mother did come home. Even if she was sick or struggling with her addiction, at least she was close by. She was showing us at least a little bit of love. I always wanted my mother to be with us and close to me. I missed my parents and my mother's hugs. Every night when I go to bed I am always thinking about her. 
My mother died a few months ago. My grandmother and a few others told me that she died because of drug abuse. Before this, I didn't know that people can die of drug abuse. My mother was sick and suffering, and she died in front of me and my brother. She died and went to God because she didn't have a place in this world anymore. My heart was broken and I cried all the time, but I could not do anything. 
My brother Artyom and I have been living with my grandmother since my mother died. She has been trying to provide for us with her retirement money. She has also been trying to register us in school, but it is very difficult. To register we need a birth certificate and official documents, but we did not have the money to apply. After trying for one year, we were able to apply for the birth certificate. 
When I am at home, I stay around my grandmother. I try to help her with chores. Spring is coming so we have started to work in the yard. I filled a few old tires with soil and planted flower and pumpkin seeds. Every day I tend to them, watching them grow. I put water on them and wait, counting the days until harvest time. I am just waiting on the pumpkins. This is what I have in the world. This is my dream project. 
Is there life in this world without having parents? It was not my fault that I became an orphan. I am sad, lonely, mad, and I hate everything, but I am innocent. Why did God make me an orphan? Does God have different plans for me? I do not know."
This story is from an interview with Daria and her grandmother on 5/5/2021
Source of Compassion is now sponsoring Daria so she and her brother can attend school without financial worries.