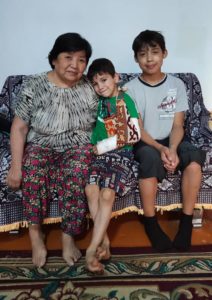 Anwar and Azat Jailupov are brothers, born in 2008 and 2016, in the city of Sokuluk, Chui province, Kyrgyzstan. The pair of brothers lived with their mother in an apartment in Sokuluk city. Their mother, Venera, worked at various jobs while Anwar went to kindergarten. Their grandparents lived in a nearby village, and did their best to help out. In 2017, their grandfather died and their grandmother, Dilbar, moved to Sokuluk city to live with Venera. Their grandmother cared for the boys while Venera worked, but in January 2018, Venera died from a car accident at only 28-years-old. The loss of their mother was shocking and very hard on the boys. The boys suffered the loss of the person dearest to them. Since then, they have been doing their best to smile for the sake of their grandmother.
Their grandmother filed for guardianship of the boys through the court, and she has been taking care of them since that time. Through government assistance and retirement money, they are living off of 6500 som (about $78) a month. This is not enough to pay for all their needs, food, medication, rent, and school supplies.
 Anwar will finish the 7th grade this year at Sokuluk school. His teachers say that he studies well. He tries to help around the house with everything, including helping out his younger brother. Anwar dreams of getting a good profession to help his grandmother and brother in the future. He wants to learn mathematics, English, and computer skills to help with his future. 
Azat will soon go to school, but the family does not have the funds to pay for all the necessities.
These two orphan kids needed more support to grow up strong and safe. Their grandmother came to the SOC office and asked for help. The Hope Center administrator went to their home to assess their living conditions and to hear their story. We were able to quickly find a sponsor to help this family.