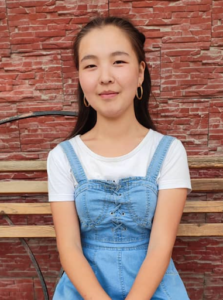 Aliya Baktachieva was born on October 6, 2004, in the city of Toktogul, Jalal-Abad region, in Southern Kyrgyzstan. Her parents wanted many children and were very happy when they had Aliya, their firstborn child. "Happiness is many children," said Aizhamal, Aliya's mother.
The family did not live in luxury, but they did not live in poverty either. Papa Muratbek constantly worked and was never out of a job. If he ever lost a job, he immediately found a new one and never stayed idle. Aliya saw that her parents loved and appreciated each other.  After 4 years, Aliya had a sister, Adilya. She spent a lot of time with the baby, and when Adilya grew up, Aliya began to teach her a lot, everything that she herself knew and that her mother instilled in her…
Later, Aliya and her family moved to the outskirts of Bishkek and began to build their own house. Things moved slowly because Muratbek built a lot by himself. Soon after, another child, Hamza, was born in the family.
 At that time, Muratbek became ill. He could not work as much but was given government disability assistance. The house was not completed, and Muratbek was very worried about it. Aizhamal (Aliya's mother) supported him and helped in what she could.
Her mother's relatives still lived in the Jalal-Abad region and her mother often visited them, sometimes with her family and sometimes by herself. 
In November 2021, Aizhamal (Aliya mother) traveled by taxi to visit her relatives. When they were crossing a pass, the driver lost control and the car flew into a cliff into the river. Aizhamal did not survive the crash.
This was a real shock to the family. Muratbek is still mourning the death of his wife. Aliya and Adilya support the younger ones and dad as much as they can, but it is very difficult for the girls without their mother. Now all the responsibilities of the house and family have fallen on Aliya's shoulders.
The family is in a difficult financial situation. The main income is Muratbek's disability pension of about 4,000 som. He tries to work and support his family, but his illness makes it very difficult for him.
Aliya came to our Hope Center courses to learn English in order to start helping her family by earning money as soon as possible. She is a very diligent girl and has a very good memory. She has completed level 1 and 2 English courses at Hope Center. 
Now Aliya has finished high school and has gone to work as a waitress in a cafe. Her English skills helped her in finding this job, and help her to feel more confident. At the moment, Aliya is the only breadwinner in the family. Her father fell completely ill and the main part of the income is his disability pension.
Aliya plans to attend our courses in the future if there is a way to further her job opportunities. Source of Compassion will support her so that she can continue her education and support her family.